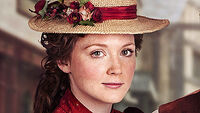 Laura Timmins has come a long way from her humble origins in Lark Rise and now feels more at home in Candleford, where she loves her work at the Post Office. She does not often see her parents or brothers and sisters.
She is very good friends with Alf Arless, who in Season 1 is somewhat in love with Laura, but later on gives up. Laura was also friends with Phillip White, and their friendship was slowly turning into romance when Laura began to see Phillip's possesiveness and stopped seeing him. In Season 2, Laura meets and falls in love with Fisher Bloom, a travelling clockmaker who is buliding a clock commissioned by James Dowland. She tries and fails to make him stay after the clock is completed, and ends up having her heart broken.
Her relationship with Daniel Parish, who edits (and writes) the Candleford Chronicle gives her the stability she needs to take a fuller, more adult role in the local community, whether it's helping out her mother Emma while Robert is away, or simply making observant notes about everyone and everything in her beloved journal.